Why Choose Zap Cooling and Heating?
Family-Run Business
At ZAP Cooling & Heating, we guarantee customer satisfaction with our HVAC repair and installation services. We are a family-run business that has been serving Cleveland, GA, and surrounding areas for over 20 years. We offer a wide range of products from Bryant, so we can find the perfect system for your home and budget. Whether you need to replace your HVAC system, repair your furnace, or just tune-up for your air conditioner, our technicians are capable of providing the services you need an affordable rate.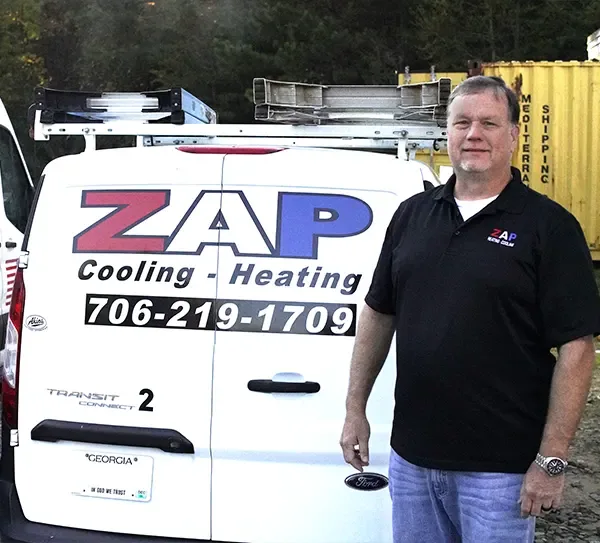 Services We Offer

Furnace Installation
If you're in need of upgrading your furnace or replacing your heater, we provide certified, professional, and expierenced furnace installations. We will work with you to meet ur budget.

Furnace Installation
Furnace Repair

If a faulty furnace has you shivering in your home, we provide exceptional repair services for furnaces and heating systems so your home can stay cozy and warm through the winter.

Furnace Repair
Indoor Air Quality

Regular maintenance will make sure your Air Conditioner is running at peak performance throughout the year. Set up bi-annual ac maintenance tune-ups with us and save!
Indoor Air Quality
Frequently Asked Questions

"Should I repair or replace my furnace or air conditioning system?"

When making the decision to repair or replace an HVAC system, there are multiple factors to consider. This includes your current system's age and durability, and the cost of repairs versus replacement. If you are unsure about what to do with your current HVAC system, it is best to consult with an experienced professional at Zap Cooling & Heating. We can assess your individual situation, weigh all options carefully, and help you make the best decision for your budget and your home.

"Are HVAC maintenance plans worth it?"

In most cases, investing in a regular HVAC maintenance plan is a wise decision that can help you save money in the long run. Our HVAC preventative maintenance plans at Zap Cooling & Heating can help you catch small problems with your system before they turn into bigger, more expensive issues. In addition, regular maintenance can help improve your system's energy efficiency, saving you money on your energy bills.


"How does indoor air quality affect your health?"

Poor air quality can cause respiratory problems, allergies, and even asthma. Fortunately, there are several things you can do to improve the air quality in your home. One of the simplest and most effective is installing an air purifier. An air purifier removes contaminants from the air, including smoke, dust, pollen, and pet dander. There are a variety of different air purifiers available, at Zap Cooling & Heating we can help you find which one is right for your needs.

"Should I choose a mini-split AC or window unit?"

Mini-split air conditioners are more efficient because they allow you to heat or cool only the spaces in your house that you are using. Mini-splits also provide more precise temperature control than window units. This can help you save energy because it ensures that each room is set at the exact temperature you desire, and no energy is wasted. If you are in the market for a way to cool one of your rooms, mini-split ACs are a great option. Zap Cooling & Heating can install one for you, and we can help you find the perfect unit for your needs. Contact us today to learn more!